Doctors & Staff
At Eye Health Professionals, each member of our vision care team is selected by Dr. Lanny DuClos based upon his or her experience, professional demeanor, and dedication to providing personalized care to our optometry patients.
Our entire Eye Health Professionals staff is committed to ensuring the comfort and satisfaction of each and every patient. We will do our best to accommodate your busy schedule by finding appointment times that meet your needs. Our knowledgeable staff at Eye Health Professionals will work with you to help you understand your vision insurance coverage and provide financial alternatives to ensure you get the best vision care possible.
We know that you have a choice when it comes to Eye Health Professionals, so we strive to provide comprehensive eye exams, a great selection of glasses, and personalized eyecare services.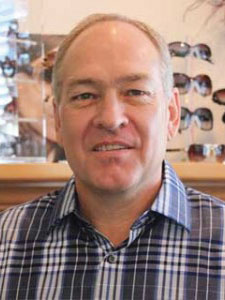 Dr. Lanny DuClos
Dr. Lanny F. DuClos graduated from the Pacific University College of Optometry in Forest Grove, Oregon. He is a Lt. Colonel in the United States Air Force Reserve and served as a National Consultant to Surgeon General, USAF. Dr. DuClos has advanced training in the treatment of eye injuries, diseases, contact lens and lasik evaluations. He is a member of the American Optometric Association, Utah Optometric Association, Armed Forces Optometric Association, Phi Theta Epsilon Optometric Fraternity, and Tooele Chamber of Commerce. He is the founder of the diabetic referral clinic to screen for retinopathy in San Antonio, TX. He has been award the Outstanding Practitioner Award; Commendation Medal for Meritorious Service and 2007 Optometrist of the year by the Utah Optometric Association. "Few things are as precious to you as your sight. I want to help protect your vision for years to come."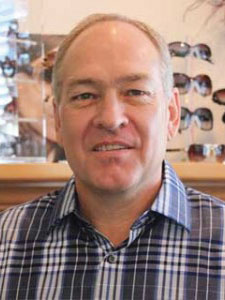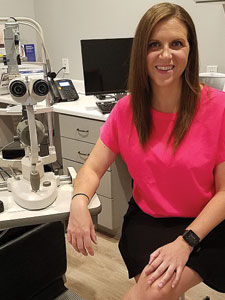 Dr. Lynch
Dr. Lynch received her Doctor of Optometry degree from the New England College of Optometry in Boston, Massachusetts. Part of her training during optometry school included internships at VA medical centers in upstate New York and Portland, Oregon; a primary care optometry practice in Salt Lake City, Utah; and a community health center in Boston, Massachusetts. After graduation, Dr. Lynch continued her education by completing a residency at the VA in Los Angeles, California where she focused on ocular disease management and low vision care. Dr. Lynch is fluent in Spanish and has traveled to El Salvador and Nicaragua on various humanitarian trips providing eye care to underserved communities since 2003. She is a member of the Utah Optometric Association, the American Optometric Association, and has been board certified by the American Board of Optometrists. When she is not practicing optometry, Dr. Lynch enjoys traveling abroad, camping, and training for and competing in triathlons. Dr. Lynch is excited to serve the needs of you and your family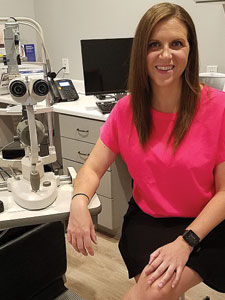 Sabrina Anderson
Office Manager/Certified Optician
Sabrina is the mother of three amazing children that she loves dearly and seven grandchildren who are her world. Her favorite pastime is being with family and supporting them in all that they do. When she is not spending time with them she loves running and participating in races. She enjoys cooking and baking for others.
Sabrina has been the office manager since 1997 and was awarded the 2007 Optician of the Year by the Utah Optometric Association. She is skilled in all areas of the practice. Sabrina guides and assists the staff with all their duties and is able to help you with any questions, concerns or needs you may have. She is always there to help serve your needs.
Meagan Caldwell
Frames & Lens Specialist/Certified Optician
Meagan is happily married with 4 boys that keep her on her toes. She loves to be with her family and stay close to home.
She has been working at Eye Health Professionals since 2008 and is a certified optician. Meagan will help you select the perfect frame and lens style that will be right for your unique prescription. From functional to fashion forward, she will make sure to help you with all your prescription and fashion needs. Meagan is also skilled at edging lenses into your perfect frame here in our office lab. She loves her career and looks forward to seeing you year after year.
Brenda Scott
Optician/Contact Lens Specialist
Brenda is the mother of three amazing kids and the grandma of a perfect little boy. She is a Tooele native and loves living here. She enjoys going to concerts with her husband of 20 years, family game nights and spending time with her family and friends at their cabin in Grover, UT.
Brenda is our contact lens specialist who will assist you in learning how to successfully use and care for your contacts and can answer any questions you may have. She is also skilled at selecting frames and lenses. Her knowledge will help in navigating some of the tricky concerns of selecting the right options. She has been with us since 2016 and is working on becoming a Certified Optician.
Vanessa Hall
Optometric Technician
Vanessa is the mother of a rambunctious little boy, who keeps her busy with his non-stop energy! She loves spending quality time with him and eating lots of ice cream together.
Vanessa has been a member of our team since 2016. She began at the front desk where she worked as the receptionist for several months. She is now working as an optometric technician, and has been doing so for a year. She is one of two technicians who will conduct all of your pre-testing, including any special testing the doctors may request, as well as complete a patient medical history and answer any questions or concerns you may have before the doctor examines your eyes. She is also able to assist with contacts and selecting the proper lenses and frames for glasses. She is currently studying to become a certified optician.
Janna Faudree
Optometric Technician
In 2015 Janna married her husband and has loved spending the last few years together as newlyweds. In her spare time, she enjoys being active and has recently taken up running. Since then she has run in a half-marathon and participated in the Wasatch Back Ragnar and loved it! She also enjoys shopping, binge watching Netflix and watching YouTube videos.
Janna joined our team in 2017 and is one of our technicians. She will conduct your pre-testing before seeing the doctor, including going over your medical and family history. She may also conduct special testing the doctor requests and answer any questions or concerns you may have. She is trained in edging lenses to fit into almost any frame of your choice.
Lacey Lefler
Patient Coordinator
Lacey has lived in Tooele County for most of her life. She is the mother of two boys that she enjoys spending her free time with. She likes the outdoors, riding mules in the mountains, hiking, and camping.
Lacey is the newest member to our team. She started with us in 2017. She is our patient coordinator and will be the first friendly face you see when you enter our office. Lacey will collect, verify and enter your personal and insurance information into our secure electronic system. She can help you with any questions or concerns you may have.